Wanneer we het over arbeid hebben, zeggen we liever geen werk dan half werk. Maar als het over de RUMOER gaat hebben we bedacht dat half werk beter is dan geen werk, vandaar deze halve editie van RUMOER.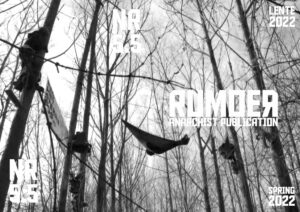 Je kan gaan lezen over:
– Oorlog en het systeem dat oorlog nodig heeft
– Spontane demonstraties in Amsterdam en Leiden
– De bezetting van het Sterrebos
– De invallen en arrestaties in München
– Wereldnieuws
– En een vervolg op tips tegen telefoons
Hier is ie: RUMOER #5.5 Nl EN
Je kan je aanmelden voor onze maillijst, dan krijg je een mailtje wanneer #5.75 of #6 er is. Als je ons wat geld stuurt kunnen wij vast beginnen aan het maken van het volgende nummer, we proberen het blad namelijk zo veel mogelijk gratis te verspreiden maar dat kost natuurlijk wel wat.
De RUMOER zal weer verspreid worden op straat, maar je kan 'm ook vinden op evenementen zoals de Pinksterlanddagen. En in je betere boekhandel of (a)sociaal centrum. Als je 'm daar niet kan vinden kan je 'm ook nog uitprinten, of ons een mail sturen met je bestelling (de hoeveelheid en in welke taal). Bestel er dan gelijk wat extra om uit te delen, dan kan je het er nog eens over hebben met elkaar.
Stuur je verzoek naar RUMOER apestaartje RISEUP puntje NET.
Tot de volgende keer, voor een aangenaam koele zomer- wat betreft het klimaat dan. Al het andere mag lekker opgestookt worden.
XXX RUMOER